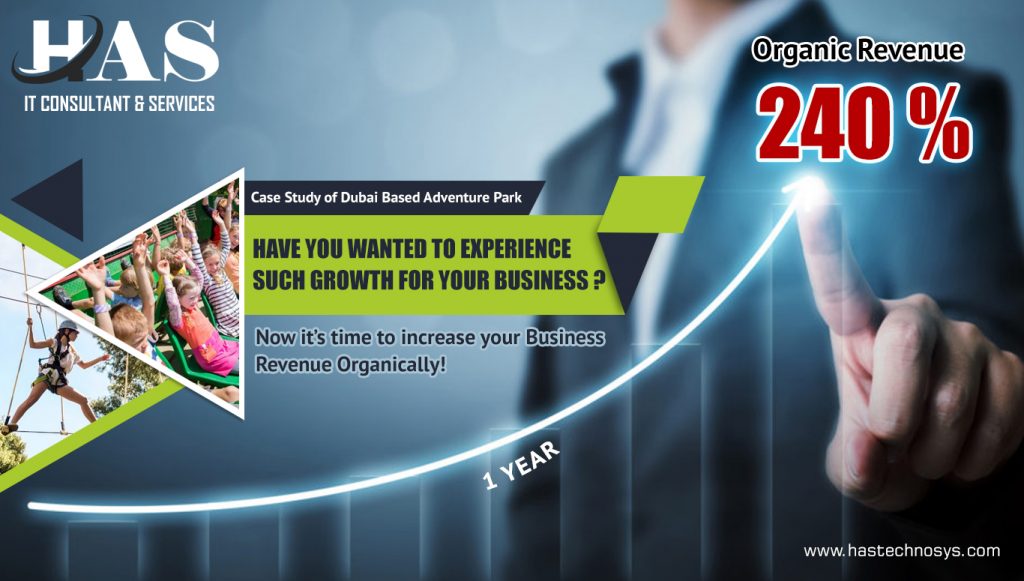 Our company, HAS TECHNOSYS, has been game-changing for many clients. Of these, one of our flaunt-worthy achievement was for an Indoor Adventure Park in Dubai. Given that we were also running campaigns for other fun places like Kids Play Area, Escape Room in Dubai and Amusement Park in Dubai, we knew that we had to get creative. So, that is exactly what we did!
We are all for organic reach, hence, we researched, created campaigns, and ran them strategically. The results were extraordinary!
The Goal – Improve Organic Presence & Generate Sales
Our first aim was to improve the online presence of the client's Adventure Park in Dubai. All was for the ultimate goal, which was to drive in more revenues through multiplied sales. So, we worked on finding the ideal audience, advertising on relevant platforms, and optimizing the official website of the Adventure Park in Dubai.
When we observed that our techniques were giving impetus to traffic and sales, we spanned our focus on Kids Play Area, Escape Room in Dubai and Amusement Park in Dubai also.
The Challenges – Fierce Competition and Stagnated Traffic
Fierce, and dare we say, successful competition along with stagnating traffic is the perfect recipe for a measurable loss.
Our primary aim is to generate traffic and sales from organic search and expand the quality backlinks.
Below are the challenges that we came across while generating traffic for our campaign:
We had to identify the variety of approaches and methods that could help us improve our reach to the target customers in the locations that were strategically important for us.
A set of channels and strategies had to be put in place so that the traffic is focused on a wider range of targeted areas.
It was challenging to understand how we can leverage the local organic searches so that we get a greater volume of traffic from different targeted locations.
We also had to make sure that the comparable acquisition cost is maintained.
For substantial growth of the business we were promoting, it was necessary that we targeted unexplored cities that had the potential of bringing in more traffic.
We had to build a customer base that was loyal to us.
We also came to know that local keywords were ranked lower on search engines.
These challenges were crucial in giving us an insight of the campaign's true potential of being successful and also gave a rough idea of the volume of traffic that would be generated.
The Solution: Organic Keyword and Search Strategies
We adopted the bucketing and comprehensive keyword research methodology that helped us identify the requirements for content that could easily bolster the client's website. Our highly proficient team was able to identify around 100 keywords for an escape room in Dubai and other fun places and was able to initiate their effective use. This was followed by improving on-site performance, optimizing blogs, navigational changes, link building, and diligent content marketing. We were simultaneously carrying out Local Search Optimization to gather keywords on the basis of cities to improve the visibility of searches across Dubai. Moreover, we also aimed for claiming top rankings for Brand Keywords to strengthen the website of our client in every possible aspect.
With all of this done, we further went on to carry out intensive planning and research. Our team made sure that extensive competitor analysis is done so that we have a road map that could help us cut through the competition. Our thorough analysis of these competitors helped us target potential customers across Dubai.
Strategies for Organic Search:
We were able to identify the local areas and created a list which helped us distribute each set of the area in a phased manner.
We identified the key phrases, analyzed the language and search preferences to stabilize the campaign.
To bring the right kind of users on the website, we managed to create dedicated pages that had location-specific content that addressed region-wise queries in all possible permutations and combinations.
All the content and the supporting page were designed in different formats such as videos, infographics, images and other text.
We were able to identify the platforms which were most frequently used by the target audience. We used a set of potential channels that got us success in promoting a variety of content formats to create a highly interactive experience for the users.
Steps for Improving the Performance of Local Keywords: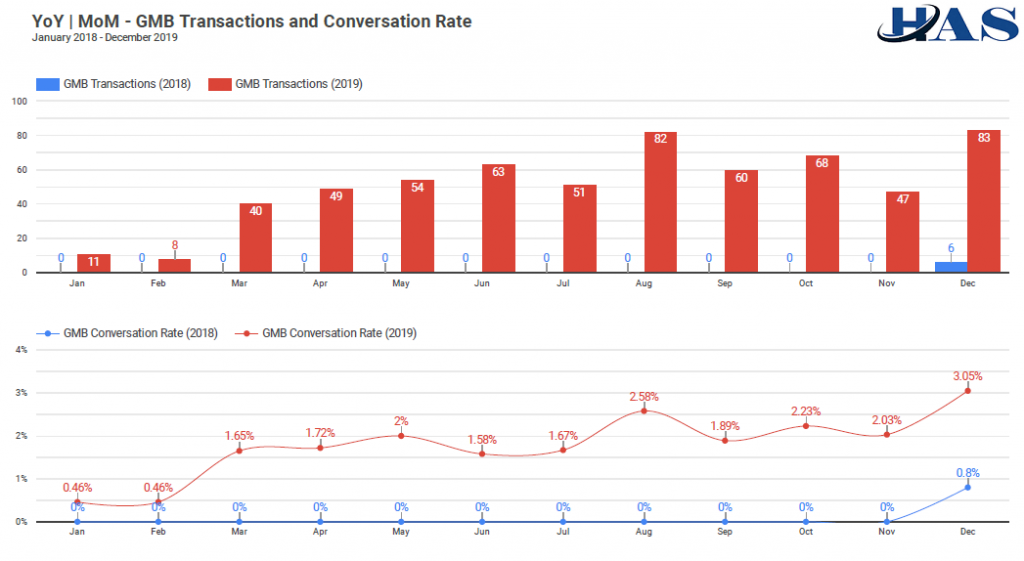 We successfully researched all keyword combinations and created a list that gave us an idea of how to we must go about targeting each city to increase website traffic.
Separate landing pages were created for every single target location across Dubai.
We conducted a thorough local optimization of each page that included setting up the Google My Business (GMB) listings for every individual customer that visited the website.
Moreover, we were able to carry out comprehensive on-page optimization of the page right from the content and other elements on each page.
We approached each newly created local page to build backlinks using off-page activities that helped increase the popularity and authority.
The Outcome – What we Achieved in the last 12 Months (2019)
As per the website analysis, the client's business experienced rapid growth in traffic, transactions, and revenue. Our SEO techniques proved extremely effective and game-changing.
To our client's amazement, the total revenue of his business increased by 1500%! The benchmark was so high, it blew our minds too! From the whopping 1.83M revenue, 1.02M was earned organically. The organic transaction and conversion rate also hyped from 0 to 35 (0.58%) within a month. By the end of the year, the number had grown to 190, which was over 5 times more than last year.
The Verdict
Have you wanted to experience such growth for your business? Do growing numbers excite you? Then why not shake hands with us, the SEO Agency in Dubai that drives stupendous results? We are also one of the best SEO company in Dubai that will boom traffic and revenue organically.